SEPTEMBER 20-22, 2023
Hampshire, UK
IAATE members £175
Non members £250
All conference activities (unless otherwise noted) are covered in the full registration, including refreshments and lunch on presentation days and transportation to locations.
CEUs will be available for CPBT-KA

Symposium Hotel
Marwell Hotel www.marwellhotel.co.uk
Our symposium hotel is the unique and beautiful Marwell Hotel. We have secured the special rate of £80 per person per night for a double room, this rate includes bed and breakfast. Please specify that you are with the IAATE Symposium to get this rate.
Rooms must be booked at least one month before the symposium.
Travel
If you are flying in, there are several airport options, with the closest being Southampton Airport.
Southampton Airport is approximately 30-min drive.
London Gatwick Airport is approximately 1.5-hour drive.
London Luton Airport 2.5 hour drive.
Car hire is available from airports.
Trains run into Winchester, which is approximately 20 mins from the hotel.
Symposium Daily Overview
Tuesday, September 19
Catch up with old friends and a chance to meet new ones as we convene for our symposium and enjoy a few informal drinks in the hotel bar.
Wednesday, September 20
Paper presentations
Location: Conference Room at the Marwell Hotel
Lunch and refreshments included.
Thursday, September 21
Day at Hawk Conservancy Trust www.hawk-conservancy.org
Spend a day with our friends from HCT. Wander the site; enjoy multiple bird shows (including Masters of the Sky, their brand new show for 2023); show deconstruction Q&A; training sessions, and pop up chats at various locations on site, including the hospital where a lot of rehab work is done and their conservation breeding aviaries.
Lunch ON OWN in Feathers Restaurant
Friday, September 22
Paper presentations
Location: Lecture Theatre at the Marwell Zoo www.marwell.org.uk
Lunch and refreshments included.
Free time to wander in the zoo at the end of the day.
Workshops (Thursday, September 21)
Workshops will be held at Hawk Conservancy Trust and have limited capacity. Reservations will be made on a first-come, first-serve basis. Space permitting, payment reserves your space. Workshops are held at different times, so it is possible to attend both, if you choose. These workshops are NOT covered in the full registration fee. All proceeds from these workshops go to fund our Walt Crawford Memorial Scholarship.
Lure flying
Learn or hone your lure flying skills with the team at HCT working in pairs and small groups to develop your technique. There may be a chance to fly one of the trusts falcons for a lucky delegate.
Cost: £10
Max 20 people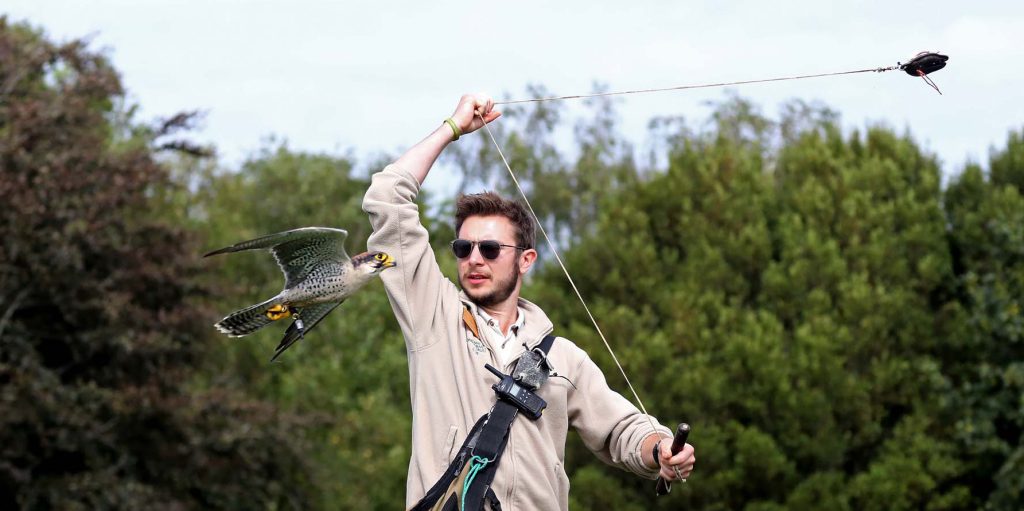 Meet the Burrowers
An in depth look at the daily lives and management of the group of burrowing owls housed at the trust including managing groups of birds of prey, and how this exhibit is managed as an immersive experience to maximise potential for guest interaction.
Cost: £10
Max 20 people
Symposium Closing Dinner
We will wrap up our 2023 UK symposium with a private dinner at the Marwell Hotel. This dinner is included in registration – great food and great times are assured!