SEPTEMBER 20-22, 2023 | Hampshire, UK
REGISTRATION IS NOW CLOSED
IAATE members £175; Non members £250
All conference activities (unless otherwise noted) are covered in the full registration.
Attention CPBT-KA and CPAT-KA! Earn CEUs
Our symposium paper sessions will be eligible for CEUs from IATCB  necessary for maintaining your certification.
Wednesday, September 20 Paper Sessions: 6 CEUs
Friday, September 22 Paper Sessions: 4 CEUs
Information for Attendees
Please join our private Facebook Group for symposium attendees. We will be sharing updates and information there and can also answer any questions.
Please ensure you have completed and returned your banquet order by September 8.
Our symposium will feature a fund-raising raffle (proceeds to help support our grants and scholarships) on Friday. If you would like to donate items, please bring them with you to the hotel on Tuesday. We will be collecting donated items in the lobby. Please note, the raffle will be CASH only.
For the post-symposium trip to the World Parrot Trust facility, we will be coordinating rides for anyone attending without their own transport. Please contact IAATE Board member, Nicky Plaskitt if you are in need of a ride or would like to offer space in your vehicle for others.
Any questions? Email IAATE Board member, Nicky Plaskitt, or check out our Facebook Group.
Symposium Hotel
Marwell Hotel www.marwellhotel.co.uk
Our symposium hotel is the unique and beautiful Marwell Hotel. We have secured the special rate of £80 per person per night for a double room, this rate includes bed and breakfast. Please specify that you are with the IAATE Symposium to get this rate.
Rooms must be booked at least one month before the symposium.
Travel
If you are flying in, there are several airport options, with the closest being Southampton Airport.
Southampton Airport is approximately 30-min drive.
London Gatwick Airport is approximately 1.5-hour drive.
London Luton Airport 2.5 hour drive.
Car hire is available from airports.
Trains run into Winchester, which is approximately 20 mins from the hotel.
Symposium Daily Overview
Download the hour-by-hour full schedule: IAATE 2023 UK Symposium Schedule
Tuesday, September 19
Catch up with old friends and a chance to meet new ones as we convene for our symposium and enjoy a few informal drinks in the hotel bar.
Wednesday, September 20
Paper presentations
Location: Conference Room at the Marwell Hotel
Lunch and refreshments included.
Thursday, September 21
Day at Hawk Conservancy Trust www.hawk-conservancy.org
Spend a day with our friends from HCT. Wander the site; enjoy multiple bird shows (including Masters of the Sky, their brand new show for 2023); show deconstruction Q&A; training sessions, and pop up chats at various locations on site, including the hospital where a lot of rehab work is done and their conservation breeding aviaries.
Lunch ON OWN in Feathers Restaurant
Friday, September 22
Paper presentations
Location: Lecture Theatre at the Marwell Zoo www.marwell.org.uk
Lunch and refreshments included.
Free time to wander in the zoo at the end of the day.
Speakers (in alphabetical order)
Download: IAATE 2023 Conference Speakers
Gary Benton, Hawk Conservancy Trust
Holly Cale, Horstmann Trust
Charlotte Foxhall, World Parrot Trust
Mark Habben, Wildwood Trust
Andy Hallsworth, Zoological Society of East Anglia
Kerry Hill, Wildfowl and Wetlands Trust
Kelli Inglis, Winging It Bird Training
James Knight, Hawk Conservancy Trust
Kit Lacy, Cascades Raptor Center
Steve Martin, Natural Encounters, Inc.
Tom Morath, Hawk Conservancy Trust
Kat Nicola, Marwell Zoo
Nicky Plaskitt, Shaping Behaviour
Sid Price, IATCB
Paul Ryder, Eagle Heights Wildlife Foundation
Mike Simmons, A World of Wings
Nikki Stakesby-Lewis, Wildfowl and Wetlands Trust
Cristina Sala Viciano, Oceanografic
David Woolcock, World Parrot Trust
Workshops (Thursday, September 21)
Workshops will be held at Hawk Conservancy Trust and have limited capacity. Reservations will be made on a first-come, first-serve basis. Space permitting, payment reserves your space. Workshops are held at different times, so it is possible to attend both, if you choose. These workshops are NOT covered in the full registration fee. All proceeds from these workshops go to fund our Walt Crawford Memorial Scholarship.
Lure flying
Learn or hone your lure flying skills with the team at HCT working in pairs and small groups to develop your technique. There may be a chance to fly one of the trusts falcons for a lucky delegate.
Cost: £10
Max 20 people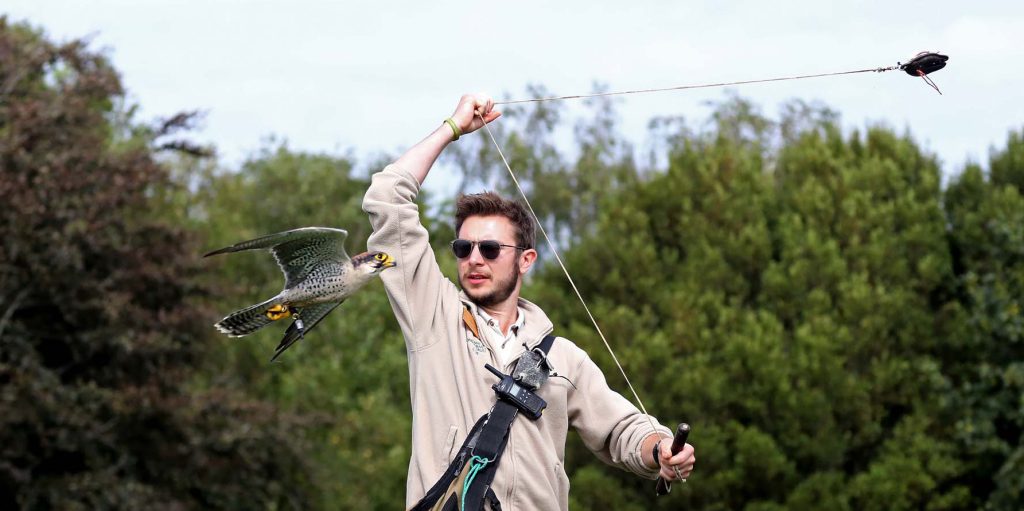 Meet the Burrowers
An in depth look at the daily lives and management of the group of burrowing owls housed at the trust including managing groups of birds of prey, and how this exhibit is managed as an immersive experience to maximise potential for guest interaction.
Cost: £10
Max 20 people
Symposium Closing Dinner
We will wrap up our 2023 UK symposium with a private dinner at the Marwell Hotel. This dinner is included in registration – great food and great times are assured!